Visit us on Facebook!
Click saw@swiftwatertel.com to email us!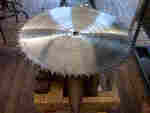 With today's economy, many people have returned to using the tools and machinery of yesterday, one of the most useful of which is the tractor powered cordwood saw. These saws, driven from a tractor's PTO by a shaft or a flat belt, make the cutting of firewood much faster and more efficient than the more typical chain saw. However, a cordwood saw is only efficient when it's kept sharp.
Dull cordwood saws require extra effort to cut with them and they place extra load on the engine or tractor being used to run them. Dull blades on small sawmills will also cut rough and out of line, producing poor quality lumber. Dull cordwood blades can also be a safety hazard, kicking wood back at the operator and possibly breaking (and throwing) teeth.
Bring in your dull large circular blade (to 56") today and let us get you cutting smoothly again!
Cordwood, bolter, cant saw, edger.
To 56" in diameter.
Solid or removable tooth.
Click here for large circular saw sharpening prices!